Promotions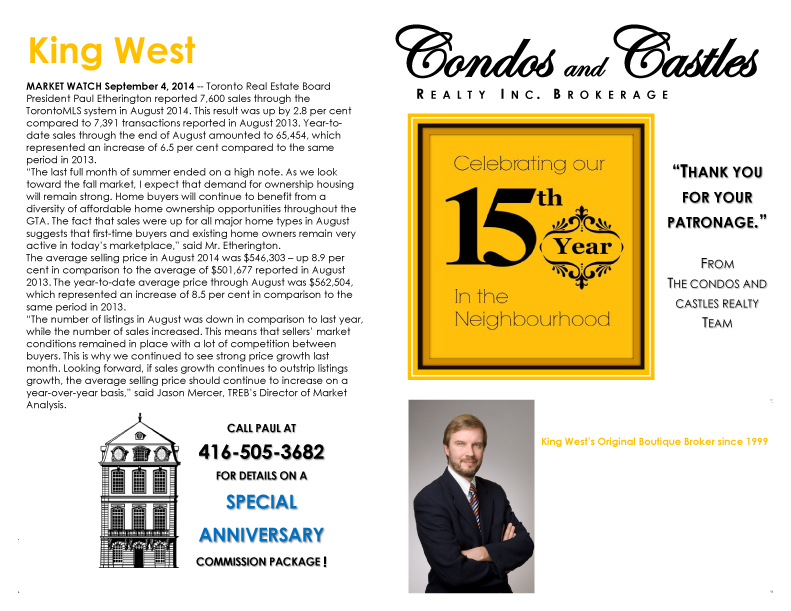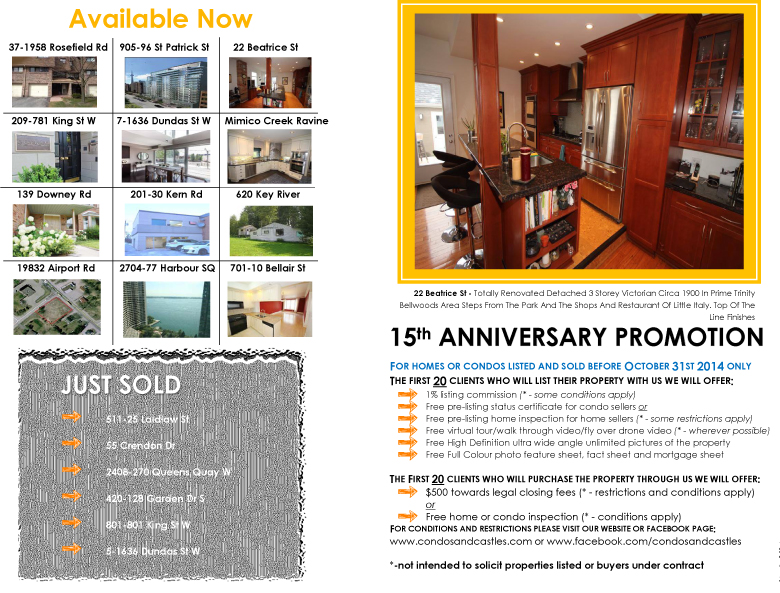 15TH ANNIVERSARY PROMOTION FOR OUR CLIENTS
FALL 2014
VALID FOR SALES AND PURCHASES BEFORE OCTOBER 31ST 2014
Conditions for FALL 2014 PROMO for clients:
1. All purchases and or sales must be firm before October 31st 2014. Closing date not later than December  31st 2014. (Min. sale/purchase price $400,000.00)
2.      Available to clients of Paul H. Raszewski – Broker of Record – other Condos and Castles agents may participate – please check with your agent.
3.     Based on minimum transaction cooperating commission of 2.5% (buyers).
4. Available to new clients only, not currently under listing or buyer contract with us, as of October 1st, 2014.
5. Free home or condo inspections only when booked and paid for by Condos and Castles Realty with the preferred supplier available at the time of sale or purchase
6. 500$ towards closing legal fees only available with the preferred law firm at the time of closing to be selected by Condos and Castles Realty Inc
7. Fly over drone video only where permitted by law and when safe to operate - area restrictions apply.
8. For condos or homes too small to conduct walk through video and or virtual tour - agent will offer high definition set of ultra wide angle pictures
9. In order to take advantage of this promo clients must like our facebook page and follow us on twitter.
10. Status certificate request limit of 100$ for regular request only - any additional fast-track or web service fees will be at the cost of seller and or buyer.
11. Full colour 4 sided photo features sheets shall be limited to 50 copies per listing.
12. in case the listing does not sell within specified time above or purchaser does not purchase a property firm before the deadline above the buyers and sellers shall reimburse the agent for any disbursements incurred due the promotional materials above. Agent may waive this right at his sole option if property is bought or sold before December 31st 2014.
13. 1% listing commission does not include HST or the 2.5% cooperating brokerage fee which will be added  for a total commission of 3.5% plus HST.
14. the 1% listing commission fee is conditional upon the sellers also buying another property through the same agent firm before November 30th 2014 and closed before January 31st 2015.
15. if the seller is not buying a property but merely selling only then the listing commission shall be 2%
plus the cooperating commission of 2.5% for a total of 4.5% plus HST.
16. This promotion is only available to first 20 buyers and sellers. The Agent shall inform the client if this number has been reached and promotion is no longer available. Please check with your agent first.
17. The Seller promotion cannot be combined with the Buyer promotion.
18. This promotion only available to residents (buyers and sellers) of the King West Village community - known as c01 District on MLS - check with us for boundaries.